Trestle [tres-uh l] a frame used as a support, especially referring to a bridge composed of a number of short spans supported by such frames.
Trestle Group was founded in 2003 with the vision to offer an alternative, more personalized approach to consulting. We have purposefully focused our scope of engagement such as to offer relevant expertise and innovative thought leadership. We believe that by assigning talented people with beyond expectation experience we put our trusted clients in a position to succeed and excel.
We strive to establish a profound relationship based on solid facts, but also on ethical and human values. By now, this vision has become reality.
Business & Operational Excellence
Our core competency is to make businesses better. From back office operational excellence to front office innovation, we cover the front-to-back operating models of our clients.
We apply proven Project and Risk Management disciplines to achieve this, as our emphasis is placed in implementing and delivering sustainable solutions.
Our common language and tool box is that of Lean Six Sigma, as we count numerous Master/Black Belts in our ranks.
Besides processes, we further cover all people and technology aspects.Finally, Trestle Group has a long standing history in sourcing, i.e. optimizing services with captive or outsourced near-/off-shore locations and providers.
Risk, Regulatory & Compliance
Trestle Group has developed a dedicated practice in Risk Management, Regulatory & Compliance matters.
"In the history of financial services, the single largest incentive for change has been compliance with regulatory pressure."
We assist organizational and technological changes designed to comply with the waterfall of new regulations.
The extent of regulatory initiated change is unprecedented, and Trestles long history of transforming businesses combined with subject matter expertise on regulatory topics such as Basel IV, IFRS 9, CCAR, ICAAP, Solvency 2, etc.) puts us in a unique position to assist in designing and implementing cost effective solutions for our clients needs.
Our broad network of experts provide latest insights in local jurisdictions, and we act as main sponsors to the Swiss Risk Association.
The journey we choose to embark on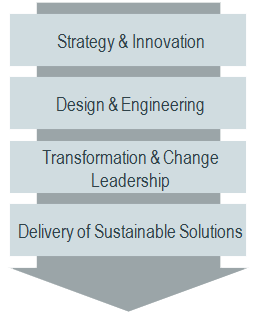 At Trestle Group, we translate "Strategy" into the "Agility" of identifying and seizing business opportunities. We strive to develop differentiating and actionable strategies with our clients and their change teams. As an IBM Watson Partner, we foster technological innovation with thought leaders in the space of smart data, robotics, and machine learning / artificial intelligence (AI).
We differentiate ourselves from our competition in our ability to leverage our network to deliver flexible solutions seasoned experts. Our team of program leaders and Master Black Belts apply six sigma, "waterfall" or SCRUM/Agile techniques based on clients needs and preferences.
Change Leadership is of paramount importance to us. In transforming organizations through people, process or technology drivers, our experts are at the apex of the solution, delivering results whilst providing appropriate training and coaching.
For solutions to be sustainable, they are required to be tailor-made and well embedded in a company's culture. Processes must be optimized end-to-end and system capabilities seamless. People must be enabled and committed. At Trestle Group, we build the bridges between people, processes and technology to fulfill those goals.